Together, we can
You can contribute in a number of ways; every exposure to the world of work helps boost their chances in accessing internship and job opportunities
Why partner in this initiative?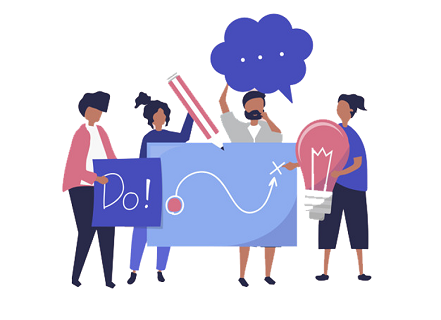 Employability skills are transferable skills that people need for employment. They are also called 'soft skills', and are separate from specific industry technical knowledge. These are the skills that can be applied to any job, e.g. teamwork, problem solving, pitching etc.
ProjectSet Skills Bootcamp is specifically designed to address the soft skill gap students and recent graduates face when starting their career. During each one week session, we will highlight a key skill through webinars, resources, micro-projects and drop-in sessions.
ProjectSet Skills Bootcamp is a programme where you can engage with fresh graduate talent on-the-job. It offers a great opportunity for you to directly connect with qualified talent through being a mentor, sharing your insights and knowledge, offering tasks and short projects or just reviewing and providing feedback on participant project outputs.
Of course! The ProjectSet team is always at hand for support.
There are three ways in which you can do this:
Speaker/Mentor - Share your skills through presentations or 1:1 team sessions
Task Creator - Offer short tasks for students to complete and develop skills
Judge - Review and provide feedback for project outcomes.
You can commit as much as much time and resources as you would like. You do not need to participate in the entire programme, rather you can pick and choose any of the skills you are most passionate about! Committing more people and time just means that you will have more engagement with students and their creative ideas. On average, we recommend mentors/speakers to commit one hour per week, task creators to commit 2-3 hours a week, and judges to commit 2-4 hours a week according to participant volume.
Don't hesitate to ask! You can send your questions to support@projectset.com anytime. Make the subject line of your email 'Skills Bootcamp Query' and we can get back to you even sooner!
Are you a current or recent graduate looking to boost your employability?
Find out more and sign up for the free Skills Bootcamp now