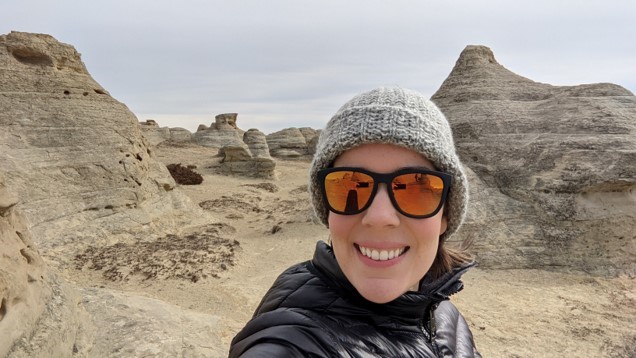 Guest Blog: A Day in the Life of a VP of Customer Experience
Author: Paige Sarrasin Posted On: 07 June 2021
Paige Sarrasin is the VP of Customer Experience at MPP Software. She's adventurous and loves to explore the beauty of nature pedalling away on her mountain bike. When she went to the interview for her current position, she actually had a black eye from falling off her bike! Keep reading to find out more about Paige's journey through her career and what it looks like on a daily basis to be the VP of Customer Experience.
Growing up I wanted to be a Veterinarian or work for a Not For Profit that would change the world. At 17 I was not sure how I was going to accomplish that, so I applied to be a Rotary Exchange student. I was given the opportunity to meet weekly with inspirational business people from a variety of industries working all over the world. After a year of living in the Czech Republic, meeting new people, traveling and drinking beer I began my studies in International Business and Marketing. I graduated 4 years later with a Bachelors of Commerce and got a job offer from a car dealership. I had no idea how much I was going to enjoy the automotive industry and the opportunities it gave me.
After 10 years of working in the automotive industry in business development, COVID-19 and the pandemic hit and I needed to stay home with my children. To make the most of this time I committed to getting outside and learning as much as possible. I took a variety of classes from online sources and learnt some basic coding.
One day I saw an ad on LinkedIn, looking for their equivalent to Disney Star Wars parade actors stopping an entire parade to let a young Jedi show off her powers of the force. It was a greenfield organization (MPP Software) looking to build a phenomenal service-oriented culture - and I had to learn more about it.
I found out everything I could, including the CEO's cell number, and asked if I could take him for lunch. He agreed to coffee and we had a wonderful time talking about the idea of their first platform (Eligere Estates), the future and how I could help. The rest is history!
My official title is VP Customer Experience and my main responsibility is to WOW our users. This is done by looking at the users touch points across the platform so they are useful and engaging. Our team is responsible for concierge services and customer support. We interact with users through email, phone and online chat. We ensure the tools are available for users who want to do things on their own by having an online support desk and keeping articles up to date. I work closely with the CEO, COO, Marketing and Development teams to ensure our technical solutions are addressing real-world problems. This role requires you to have excellent communication skills and strong problem solving skills. No matter how much you prepare, users will still surprise you.
I do have an office but due to local regulations around the pandemic I have been working from home. First thing is always making coffee and logging in to see how many new users we have. I then check to see if any support tickets have been submitted, and mark myself as online for my coworkers and our support live chat.
After addressing any new support tickets, I will usually look over my emails, followed by a video call with our VP of Development. He lives over 5 hours away and we have only met once in person due to the pandemic. I like to check in on all his pets as he holds them up to the camera, and then share any customer feedback (usually good) or ideas I might have. The rest of the team sleeps in a little later than us so we conference call with them later in the day.
Our flagship product, Eligere Estates, gives vacation home owners the tools to easily and privately share their cottage and beach homes. Without an invite guests do not see anything on the platform. If a homeowner has purchased a new getaway they send me the listing and I get everything set up for them so all they need to do is send the invites or links to their friends.
Recently, I have also started working on our corporate platform to give small mom and pop accommodation, as well as some unique glamping locations, the tools for online booking, availability and communication with their guests. This part of the day is brainstorming on ways we can help and requires lots of patience for when I will be able to travel and visit again.
Due to the pandemic, I have actually met the COO and other VP only once in person. I don't know if walking in high heels will ever come back to me. I have worn slippers every day for 40+ hours a week for a year. If you are in the market for new slippers I recommend sheep wool with a hard sole.
The end of the day usually arrives unexpectedly. I make sure everything I promised to do for users and co-workers is done. All the support tickets have been addressed and emails answered. I make sure everything I want to do tomorrow is on the to-do list, pack up my home office from the dining room table and go pick up my kids. If weather permits we will spend an hour at the park before starting dinner.
Overall, I'd say the best part of my job is making people happy and helping create the tools to make their life easier. The worst part is delivering donuts and not being able to stay and share them.
If I had a piece of career advice to give my past self it would be to network! Meet the people who do the jobs and ask owners their "why" for what they do. If you can find an organization that shares your values it makes going to work something to look forward to.
You can follow Paige on Instagram @lethbridgemom to see more of her scenic bicycle travels, and check out the cool work @eligereluxury is doing to help give vacation home owners exposure and easy booking tools!